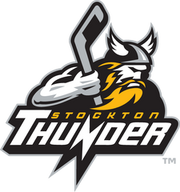 The
Stockton Thunder
are a minor league professional ice hockey team from Stockton, California. The Thunder are a member of the ECHL, and began playing in the 2005–06 season. The Stockton Arena is their home ice. Stockton is an affiliate team of the Edmonton Oilers of the National Hockey League.
Official Stockton Thunder Website: http://www.stocktonthunder.com/
The Thunder relocated from Atlantic City, originally known as the Atlantic City Boardwalk Bullies. Prior to that, the franchise was known as the Birmingham Bulls, and originated in 1990 as the Cincinnati Cyclones.
Since relocating to Stockton, four alumni have played in the NHL as of January 2009.
Stockton hosted to the "2008 ECHL All-Star Game" in January 2008. Three Stockton Thunder players were chosen to represent their team in the game; Ryan MacMurchy, Brad Farynuk, and Andy Contois.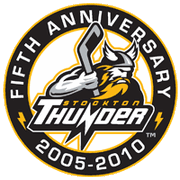 Head Coach
Matt Thomas
Assistant Coach Ryan Mougenel
Assistant Coach Tim O'Connell
Ad blocker interference detected!
Wikia is a free-to-use site that makes money from advertising. We have a modified experience for viewers using ad blockers

Wikia is not accessible if you've made further modifications. Remove the custom ad blocker rule(s) and the page will load as expected.