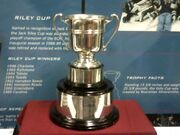 The Patrick J. Kelly Cup goes to the play-off champion of the ECHL. The Kelly Cup has been awarded to teams since 1997. Prior to 1997, the playoff winner was awarded the Riley Cup. The current cup is named after Patrick J. Kelly, the league's first commissioner. The cup is loaned to the winning team for one year and is returned at the start of the following years playoffs. The Kelly Cup Playoffs Most Valuable Player award is also given out as part of the Kelly Cup Championship ceremonies. Nick Vitucci and Dave Gagnon are the only players to win the award on multiple occasions.
15 different franchises have won the ECHL Championship, with five (Hampton Roads, Toledo, South Carolina, Cincinnati and Idaho) winning multiple times. The Hampton Roads Admirals, predecessor of the Norfolk Admirals of the American Hockey League, and the South Carolina Stingrays hold the record for most championships won with three. Current possession of the trophy belongs to the Cincinnati Cyclones, who won it in 2010 after a five game victory over the Idaho Steelheads in the Kelly Cup Final.
List of ECHL Champions
Edit
See Also
Edit
Ad blocker interference detected!
Wikia is a free-to-use site that makes money from advertising. We have a modified experience for viewers using ad blockers

Wikia is not accessible if you've made further modifications. Remove the custom ad blocker rule(s) and the page will load as expected.