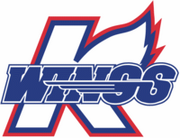 The
Kalamazoo Wings
(usually shortened to
K-Wings
) are a professional hockey team in Kalamazoo, Michigan that began play there in the 2000-2001 season after a relocation of the Madison Kodiaks (founded in the 1999-2000 season). They are a member of the ECHL's American Conference, North Division, and play in Wings Stadium. From 2000 until June 1, 2009, the team had been a member of the United Hockey League (which changed its name in 2007 to the International Hockey League), when the club informed the league of its plans to withdraw because of its continuing stability issues

Official Kalamazoo Wings Website: http://www.wingsstadium.com/

The current franchise was granted the right to use the name and logo of the previous Kalamazoo Wings, which was a member of the original International Hockey League from 1973 through 2000. The earlier team was known as the Michigan K-Wings from 1995 until its demise in 2000. That led to the owners acquiring the former Madison franchise of the United Hockey League.

For games on (or near) holidays, the Wings will use special jerseys. They will usually do this for Halloween, Valentine's Day, and St. Patrick's Day. The "Green Ice Game" (St. Patrick's Day) is one of the most celebrated games in all of minor league hockey. It has been around since 1982. They also have the Pink Ice Game (Valentine's Day), the Orange Ice Game (Halloween) and a new creation the Golden Ice Game.
The Wings are affiliated with the Grand Rapids Griffins of the American Hockey League.
They also have travel teams for local youth hockey players.
On June 9, 2009, the ECHL accepted the Wings into the league. The team will be affiliated with the Philadelphia Flyers and San Jose Sharks of the National Hockey League and the Adirondack Phantoms and Worcester Sharks of the American Hockey League.
Championships
Edit
| Year | League | Trophy |
| --- | --- | --- |
| 2005-2006 | United Hockey League | Colonial Cup |
Ad blocker interference detected!
Wikia is a free-to-use site that makes money from advertising. We have a modified experience for viewers using ad blockers

Wikia is not accessible if you've made further modifications. Remove the custom ad blocker rule(s) and the page will load as expected.