The
ECHL All-Star Game
is an exhibition ice hockey game that traditionally marks the midway point of the ECHL's regular season, with many of the league's star players playing against each other. The starting lineup for the two teams, including the starting goaltender, is voted on by the coaches, players, and other league representatives. The coaches for the two All-Star Game teams are typically the head coaches of the teams that, at the time of the All-Star Game roster announcements, are leading their respective conferences in point percentage (i.e. fraction of points obtained out of total possible points). The All-Star Game is preceded by the
ECHL All-Star Skills Competition
, a competition showing the various talents of the all-stars.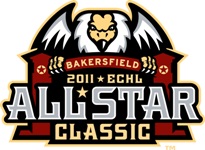 All-Star Game results
Edit
Year
Winner
Score
Loser
MVP
Host City
Host Arena
2011
American Conference vs. National Conference
Yet to be played
Bakersfield, CA
Rabobank Arena
2010
National Conference
10:9
American Conference
Evan Barlow, Idaho (National)
Ontario, CA
Citizens Business Bank Arena
2009
American Conference
11:5
National Conference
Matt Ford, Charlotte (American)
Reading, PA
Sovereign Center
2008
National Conference
10:7
American Conference
Ash Goldie, Victoria (National)
Stockton, CA
Stockton Arena
2007
American Conference
6:3
National Conference
Adam Berkhoel, Dayton (American)
Boise, ID
Qwest Arena
2006
National Conference
7:6
American Conference
Luke Curtin, Fresno (National)
Fresno, CA
Save Mart Center
2005
National Conference
6:2
American Conference
Frank Doyle, Idaho (National)
Reading, PA
Sovereign Center
2004
Eastern Conference
7:6
Western Conference
Randy Rowe, Peoria (East)
Peoria, IL
Carver Arena
2003
Northern Conference
8:2
Southern Conference
Scott Stirling, Atlantic City (North)
Estero, FL
Germain Arena
2002
Southern Conference
7:6
Northern Conference
Allan Sirois, Augusta (South)
Trenton, NJ
Sovereign Bank Arena
2001
Southern Conference
9:5
Northern Conference
Jonas Soling, Augusta (South)
N. Little Rock, AR
ALLTEL Arena
2000
Northern Conference
8:6
Southern Conference
Jeff Mitchell, Dayton (North)
Greenville, SC
BI-LO Center
1999
Southern Conference
7:4
Northern Conference
Jason Elders, Mobile (South)
Biloxi, MS
Mississippi Coast Coliseum
1998
Canada All-Stars
11:7
USA/World All-Stars
Andy MacIntyre, Jacksonville (Canada)
Lafayette, LA
Cajundome
1997
Charlotte Checkers
7:6
ECHL All-Stars
Andrei Bashkirov, Huntington (ECHL)
David Brosseau, Charlotte
Charlotte, NC
Independence Arena
1996
Northern Conference
10:7
Southern Conference
Don Parsons, Johnstown (North)
Tallahassee, FL
Tallahassee-Leon County Civic Center
1995
West All-Stars
6:5
East All-Stars
Jay Neal, Toledo (West)
Greensboro, NC
Greensboro Coliseum
1994
West All-Stars
7:6
East All-Stars
Joe Cook, Columbus (West)
Cory Cadden, Knoxville (West)
Norfolk, VA
Norfolk Scope
1993
East All-Stars
7:3
West All-Stars
Darren Schwartz, Wheeling (East)
Wheeling, WV
Wheeling Civic Center
Ad blocker interference detected!
Wikia is a free-to-use site that makes money from advertising. We have a modified experience for viewers using ad blockers

Wikia is not accessible if you've made further modifications. Remove the custom ad blocker rule(s) and the page will load as expected.